Deccan Herald Newspaper Advertisement Details
No.1 English daily in Karnataka

4.58L readership
Popular in Delhi
Economical ad tariffs
No.1 English daily in Karnataka

4.58L readership
Popular in Delhi
Economical ad tariffs
---
SECTIONS
---
Category :
Main Newspaper
Publishing Day :
All Days
The Deccan Herald is the largest English-language daily newspaper in Karnataka. It is published by the Printers (Mysore) Private Limited and has editions in Bangalore, Hubli, Mysore, Mangalore and Gulbarga. Book Deccan Herald Classifieds to ensure proper response in regions of Karnataka.
The Deccan Herald is a popular English Daily Newspaper publishing from various center in the state of Karnataka. It is published by The Printers (Mysore) Pvt. Ltd. the publishers of Parajavani, a leading kannad newspaper in Karnataka. Every day Deccan Herald touches the lives of the people of Karnataka. Today the daily shapes the opinions and directs their actions. Deccan Herald was born 54 years ago when the first edition hit the streets on June 16, 1948. The newspaper was a reflection of the optimism, and a voice of the aspirations of a newly independent nation.
Category :
Classifieds Supplement
Publishing Day :
All Days
Deccan Herald Classified Ads is cost effective and ideal platform to advertise on for Matrimonial,Property,Obituary, Recruitment, Education,etc type customers. Ad cost is calculated based on the number of lines used.
---
Category :
Appointment
Publishing Day :
Wednesday
Open new career avenues for the people making desperate attempts to carve out their careers. Advertise yourself with the extremely popular pullout 'Avenues', for both employee and job seekers of Karnataka by the Deccan Herald.
---
Category :
Education
Publishing Day :
All Days
Students are always in need of a valuable guide in their search for a great career, so be the perfect guide for them and drive them to the right path by promoting yourself through the Education pullout of Deccan Herald.
---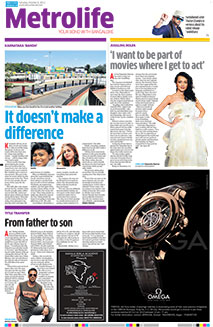 Category :
Others
Publishing Day :
All Days
Metro Life focuses on Bangalore's city ads on fashion,food,events! Advertise anything and everything under this all-rounder pull out by Deccan Herald!!
---
Category :
Property
Publishing Day :
0
The Deccan Herald Property pullout is a haven for people seeking information and deals on property!!! Purchase,sale, rent or find any other form of information regarding property in the Deccan Herald Property Page!!
---
Category :
Others2
Publishing Day :
All Days
Living, the health and lifestyle pull out by the Deccan Herald informs you on the current and latest trends in fashion and health!! So promote your health clubs, boutiques and fashion events on 'Living' and tell people what "living Life is all about!!
---
Category :
Others3
Publishing Day :
Sunday
Deccan Herald's Sunday feature supplement, Sunday Herald, uniquely mixes enticing news about celebrities, films, television and local events on one hand, and art, culture, books and tips for a fulfilling lifestyle on the other. Due to the inclusion of both the aforementioned elements, the Sunday Herald enjoys a high readership base.
---
Category :
Obituary
Publishing Day :
All Days
Dedicate poems and personal remembrances to your loved ones whom you lost. Publish obituaries and other personal dedications in and around Karnataka in the Obituary Pullout of Deccan Herald!!
---
Why advertise in Deccan Herald Display ?
WHY ADVERTISE?
---
Welcome to the Authorised Online Display Newspaper Ads Booking Service for Deccan Herald. You can book ads under the Matrimonial, Property, Recruitment and Obituary sections at discounted prices. Instantly!
Deccan Herald is among the best newspapers of India
It is also among the most read newspapers in the country, specific to its region of ciruclation
The reasonable cost of booking ads makes Deccan Herald the first choice for many advertisers in India
Deccan Herald enables you to publish Display ads under various categories or sections. These categories may be chosen as per your requirement ranging from Announcements and Education to Public Notice and Tender ads.
Deccan Herald also provides economical discount and combo packages while booking advertisements through the authorised online newspaper ads booking agent-ReleaseMyAd.
Now with ReleaseMyAd at your service you can book your ad online in just 3 Simple Steps - Select the Newspaper, Compose your Ad, and Confirm the Dates along with the Payment and confirm their release instantly!!!
Authorized Advertising systems of all major newspapers have been incorporated in our services to ensure consistency in flow & availability of dates. All payments made against your ads on the site are handled securely through SSL encryption for maximum protection.
Deccan Herald Display Ad Booking Process
BOOKING PROCESS
---